This blog post is brought to you by Annie Fox, M. Ed. She has written many books for kids, teens and parents over the past 40 years. Her digital transition has been part of a life-long partnership with her husband, developer David B. Fox. Their most recent collaboration is Electric Eggplant, producer of Annie's print-to-app series, Middle School Confidential, as well as several ebooks, including the Raymond & Sheila titles that promote socio-emotional learning.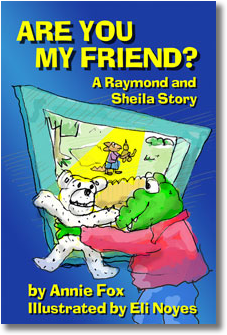 We've all seen story apps with knockout art and animation – digital eye candy so vibrant, lovely, and/or filled with whimsy we may just want to slip into this new world and stay forever. Which is why adults, who do all the reviewing and buying of kids story apps, go gaga for apps that look great. And of course, story apps need to look great on the screen. After all, we're talking about creating content for a visual medium. But story apps have the word "story" right in there for a reason. They need an actual story to qualify. A boy sitting down to slurp a loooong noodle isn't a story. When a length of pasta is a story's only protagonist and it doesn't even speak or do anything, well, we've truly entered the realm of PDD (Plot Deficit Disorder).
Maybe the notion that story is essential has been lost and few people have even noticed. Maybe story app development is just following the trend in children's picture books that dictates: Art drives sales. Yes, they're called "picture" books but that's no reason to skimp on story or to believe that kids won't notice that "no actual story comes with this book." Kids like new books. They like to look at the pictures. And most kids will… once, maybe twice. But without a great story, one that touches the heart of that child, s/he isn't likely to pick up that book again.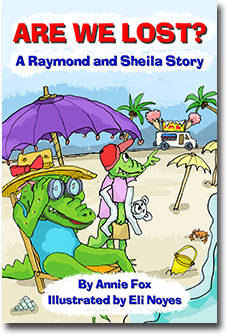 What makes a great story? Characters and plot that speak to the reader in ways that make us care about those characters and what happens to them. Charlotte's Web, for example, is a truly great story. Fern, Wilbur and Charlotte live and breathe and spell on the pages of E.B. White's masterpiece. Because the writing is brilliant in its honesty and depth of emotion, kids have loved that story for the last 60 years. No reason to doubt they will continue to do so. There are beautiful illustrations in Charlotte's Web, but their only function is to reflect what's going on in the story. They don't replace the story. And without the illustrations, the story remains just as brilliant and compelling. But if we took away the art in many story apps and left only the text, there would be no meaningful content to speak of.
If we want to give kids great story apps, (and why bother with anything less?) we ought to use the same standard used in great storybooks. Put story first. Make sure it's well crafted, honest, and has the emotional hooks to connect with the heart and mind of the kid holding that iPad. Once you've got your story, then and only then, should you start developing the bells and whistles.
Annie's work has always centered on the healthy social/emotional development of kids, tweens and teens. She writes for them with compassion, humor, understanding for the challenges they face in doing the right thing and being themselves. 
A parent and parent educator for 30+ years, Annie also writes for adults. Her latest book, Teaching Kids to Be Good People, is now available in print and as a downloadable Kindle ebook.
Annie and her husband, computer whiz David B. Fox, founded Electric Eggplant in 1992 to support their digital projects, publishing quality titles for children, teens and caregivers on multiple formats.
Category: All About Apps, Guest Posts, iPads in Education