Our last post, "Have Children's Apps Lost Their Luster?" was very popular, so we'd like to extend the discussion a bit more with this enlightening interview from app developer Sarah Towle. Sarah has been at the forefront of the development of educational apps with her groundbreaking travel series called Time Traveler Tours. She's also been a regular at innovative tech conferences while doing lots of her own research.
Let's hear what she has to say about the state of the market for children's apps:
Q: You've attended a lot of conferences lately, what are some of the most recent meetings/conferences you've attended? What topics did you find interesting?
A: I most recently attended the Dust or Magic Masterclass at the Bologna Children's Book Fair, then stayed on for the events at the Digital Café at the Fair. This was my 5th Dust or Magic event. I enjoy being among the first to learn which apps won the Digital Ragazzi Prize… and which didn't. Last November I was at the SCBWI-BI conference as a speaker in their new "spark" strand. This was the first year the British Isles group included a digital component and I was thrilled to be part of it.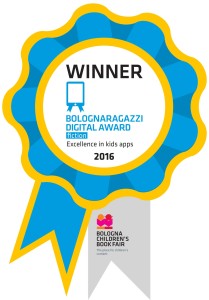 Prior to that I attended the FutureBook Conference organized by the UK industry magazine, The Bookseller. And nearly every month since I moved to the UK, I've participated in events organized by Byte the Book, which is all about publishing in the digital age.
For the past several years, since launching my first app, Beware Mme la Guillotine, I've been laying the groundwork for the launch of my independent digital-first children's media start up, Time Traveler Tours Tales. I make it my business to study the latest apps—good and bad—in the children's publishing, museum, and travel & tourism sectors. I've been developing an app publishing platform with my partner, raising money, researching tools and advice on producing e- and audio books, as well as evaluating distribution platforms for POD print book production.
Q: What have you learned at all these conferences and from researching apps? What take a-ways would you like to share?
A: The main take a-way is that the print book is far from dead. Book sales are up on both sides of the Atlantic, especially children's books, and publishers are feeling bullish again. When I first entered this industry, they were uncertain. The global economic crisis hit everyone hard, and the touchscreen revolution made publishers nervous that traditional practices might be disrupted by the paradigmatic shift wrought by digital technology.
Another take-away is that developers are now realizing they need talented content creators in order to survive. It's been a steep learning curve for all of us. Traditional gatekeepers were wary of wading in a few years ago, while technically savvy people couldn't wait to develop for children with sometimes dubious results. Few understood the developmental learning needs and abilities of their target age group. Technical bells and whistles proved an inadequate substitute for content without educational value. Today, it's clear that great technology demands great content, both textual and visual. So we are starting to see the fruits of partnerships between tech developers and content creators.
But the biggest take-away is that it's still very difficult to succeed in this space. The companies that are killing it, for the most part, are developing for the youngest children. Their apps tend to include very little language or no language at all. This means they can more easily "localize" in app stores worldwide and reach a larger audience right away. The best apps also tend to be masterfully designed, with superlative illustrations – another thing lacking in the early days – intuitive navigation, brilliantly responsive code, and sound effects that aren't annoying and can be turned off.
But are they books? I'm not the only one to point out that many of the most popular children's apps, including Bologna Digital Ragazzi Award winners and mentions, more often resemble games than books. The language issue explains why there are consistently far few apps for older kids, particularly teens and tweens. It's a big challenge for my company, Time Traveler Tours & Tales. Localization adds a huge additional cost when you've got to translate a language-heavy product such as ours for worldwide market penetration. This is why we've decided not to stop with apps, but to develop our stories across the formats. We want our stories to be accessible where our audiences want them most. And that might not be the mobile format.
Like us, many children's media companies have determined that apps are only one way to play their content, maybe even the loss leader. To make apps and apps alone is not a viable business model as they are simply too expensive to make and still do not fetch a price tag worthy of their true value.
Q: What is your take on the evolution of edtech and the app market, especially for digital books? (Is it maturing or on a decline/upswing? How has it changed since 2008-2010? Has consumer interest changed, dropped, matured? Has media & review interest changed? Any advice for new startups?)
A: It's incredibly difficult to break into the education market. Yet there are many of us out there still trying to do it and I applaud each and every one. For my own part, I've given up on trying to break into school-based education. I'm focusing on homeschooling, museum education, and educational travel instead.

Sites like the Educational App Store in the UK as well as Teachers With Apps and Children's Technology Review in the US are doing a yeoman's job of curating the best apps to make them more "discoverable" by teachers and parents. These organizations serve to help consumers by-pass App Store search, which is so sadly, hopelessly flawed. There are other online platforms out there, but I caution readers that if highlighted apps haven't been viewed and reviewed by educators, then they aren't curated. It's still kind of a Wild, Wild, West out there and therefore all too easy for developers to promote apps as "educational" that have not been vetted by gatekeepers in-the- know and may not be worthy of children at all.
What is working in edTech are not so much book apps but creation tools that enable kids to imagine and realize their own great content. There are also more and more interesting tools to help teachers assess student learning so they can spend more time teaching than testing, and so they can better customize their instruction to cater to differentiated learning needs.
Q: Any other comments, insights, thoughts…
A: Pricing remains a challenge in the apps stores. Users still expect apps to be free or no more than 2.99. In my observations, most developers have stopped fighting this and are instead finding alternate ways to earn money from their digital content. Subscription models are finding some success, as are in-app purchases, with parent gates to protect the youngest consumers, that unlock series or deeper-level content. In addition, publishers are seeing apps not as stand-alone products, but part of a greater whole. The app might be free and a way of promoting a book, game, movie, or toy, for example.
That's why we at Time Traveler Tours & Tales have resolved to publish all future content across the formats. We plan to develop our future content in "title suites." We start with the app, which requires the most creative assets to produce, then back into print through interactive eBook and audio book formats, repurposing those assets. Our apps will launch initially as single products. But as we develop multiple story tours for the same city, we may move to a single bundled app with COPPA-compliant in-app purchases for each story tour.
Bottom line: Only the apps that contain little or no language seem to be making money for their developers. So if you wish to develop bookish content for the older reader, look to exploit that content in other formats as well.
About Sarah Towle:
Sarah Towle, Founder & Creative Director
In 2010, author/educator, Sarah Towle, realized that the time-traveling illustrated treasure hunt of Paris history she was writing for kids was not destined for print. Her 48 13-14 year old beta-readers gave it to her straight: It would make a better a series of great interactive apps. From that moment, she began building Time Traveler Tours, a new generation of tour guide for a new generation of traveler, combing the traditional power of storytelling with the latest in touchscreen technology to create portals to the past and bring history to life at the tips of your fingers. The company's mission: To ensure that no young person says, "History is boring," ever again.
Sarah's debut StoryAppTour, Beware Madame la Guillotine, A Revolutionary Tour of Paris, launched in July 2011 in App Stores worldwide. It went on to earn top industry accolades and rave reviews. However, the app's critical splash was not matched by commercial success. Not even close. This compelled Sarah to step back and study the myriad challenges, as well as opportunities, unleashed by the digital revolution. Now she's back, having created twin publishing imprints dedicated to history, cultural, and place-based education:
Time Traveler Tours builds interactive apps for educational tourism.
Time Traveler Tales repurposes the creative assets in each time traveler tour to create a suite of print, audio, and e-products for trade as well as the school and library markets.
Sarah and Team TTT&T aim revolutionize the discovery of history and culture for the benefit of youth—and the young at heart—by bringing the very best in interactive storytelling across multiple formats with the help of a consortium of writers dedicated to the creative nonfiction and historical fiction genres. Stay tuned for our launch title, In the Footsteps of Giants, Michelangelo's David Revealed, by Mary Hoffman (2016).
A long-time expat, Sarah currently lives in London, UK, with her husband Jim, their incredibly comic and wildly hirsute four-legged adopted friend, Gryffindog, and her daughter, Lily, when she's home on University holidays.
Category: All About Apps, Guest Posts